STD Testing Ringgold, GA
Convenient & Discreet Walk-In STD Testing for Ringgold, GA, Residents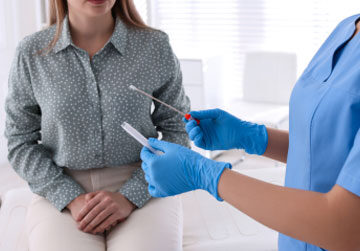 Erlanger ExpressCare is pleased to provide accurate sexually transmitted disease (STD) testing for patients in Ringgold, Georgia. We are open seven days per week with extended hours and we accept most major insurance plans as well as offer reasonable self-pay rates. If you are in need of STD testing, visit our urgent care clinic today for prompt and reliable results.
When to Seek STD Testing
If you are sexually active, it's important to get tested for STDs regularly—even if you practice safe sex every time and do not have any noticeable symptoms. Aim to get tested at least once per year, or more frequently if you have new or multiple partners or if you don't always use protection. Of course, you should seek diagnostic STD testing right away if you do develop symptoms, such as:
Pain while urinating or during sex
Genital discharge
Genital itching or irritation
Pain in the abdomen or pelvis
Rash in the genital area
Bleeding between periods
Many STDs can be cured or managed, but it's essential to address them as soon as possible to avoid potential complications like organ damage, cancer, or infertility, which can occur when certain infections are left untreated. At Erlanger ExpressCare, we can accurately diagnose what's causing your symptoms and, for many types of STDs, prescribe treatment that same day so you can walk in, walk out, and feel better.
Visit Erlanger ExpressCare Today
No appointment is necessary to visit our urgent care center in Ringgold for STD testing or any other service. You can simply walk in anytime during our operating hours or, to expedite the process even further, you can reserve your place in line before you arrive with our online booking tool. We are conveniently located at 6982 Nashville Street.